Petcover Group Recognised at Broker Innovation Awards 2022
Petcover Group Recognised at Broker Innovation Awards 2022
The Broker Innovation Awards 2022 took place last week at the Leonardo Royal Hotel London, St Paul's. The Petcover Group was recognised across two categories with British Pet Insurance being nominated for Customer Service Awards and Anna Hall, Global Head of Marketing and Communications for Petcover Group, being nominated for Rising Star of the Year.
You can read more about our nomination achievements here.
We are delighted to say that Anna Hall was announced as the winner of the Rising Star of the Year award.
Anna was unfortunately unable to attend the event due to prior commitments but Marketing Executive Richard was on hand to collect the award.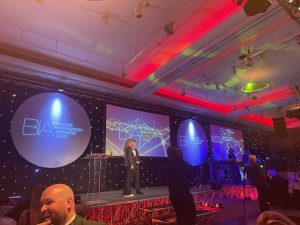 Here are some words of acceptance from Richard from the evening:
"Anna has been with Petcover Group for a little less than a year and in the short time she has been with us, she has managed to completely reshape and revitalise the global marketing and communications team and strategies. Anna is always available 24/7 and none of us are quite sure when she finds time to sleep. If it's up before sunrise assisting with our Australian colleagues, working during the day with the UK team or staying up late for New Zealand Meetings, Anna is always there to support and guide us. This award is a true testament to Anna's dedication to creating a safe, comfortable, collaborative and fun environment to work within and her dedication to her role and the Petcover Group."
We are all incredibly proud of Anna and our Customer Service Team at British Pet Insurance for their outstanding achievement in being nominated. We'd like to thank the Broker Innovation Awards for their recognition and hospitality.