British Pet Insurance Spread Their Wings at the PFMA Parrot Nutrition Symposium 2022
British Pet Insurance Spread Their Wings at the PFMA Parrot Nutrition Symposium 2022
British Pet Insurance was proud to sponsor the PFMA Parrot Nutrition Symposium 2022 at The Oakfield in Chester Zoo. A unique learning and networking opportunity for all parrot experts and keepers to exchange knowledge and best practice on feeding, nutrition, and behaviour of parrots.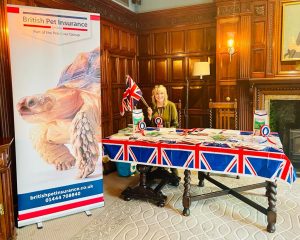 A fantastic range of talented experts in the field shared their wealth of knowledge with the delegates in attendance. The day was filled with useful, insightful, and charming tales of their love for parrots and their owners. Delegates ranged from keepers, nutritionists, veterinarians, and charity representatives.
Lorraine Nash, Commercial Partner and Sales Manager said, ""It was a pleasure to support PFMA's Parrot Nutrition Symposium, and to meet with an array of parrot experts, keepers, and enthusiasts to discuss current best practice for feeding, nutrition, behaviour and welfare of captive parrots.  
"The panel of speakers delivered compelling presentations detailing the findings of various studies and illuminating important need-to-know information, prompting further discussions with delegates."
The speakers in attendance and sharing their knowledge through the symposium were;
Lauren Samet – Animal Nutritionist, Chester Zoo
Mark Vercoe – Deputy Curator of Birds, Chester Zoo
Alan Jones MRCVS – Chairman of The Parrot Society UK
Vicki Baldrey MRCVS – Avian Vet & Lecturer at the Royal Veterinary College
Dr Isabelle Kalmar DVM PhD – R&D Expert, Versele-Laga Belgium & Co-Chair of Fediaf Small Pets Working Group
Tariq Abou-Zahr DipECZM (Avian) MRCVS – Exotic Animal Veterinary Surgeon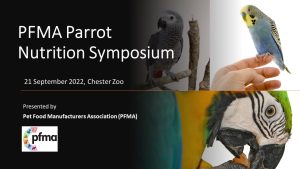 British Pet Insurance was delighted to have been able to sponsor the event alongside Arcadia, the bird lighting specialist.
For more information about the symposium and any further upcoming events, visit the PMFA website by clicking here.
If you'd like to work with us as a partner or learn more, email our team at partnerinfouk@petcovergroup.com