Highway Code rule changes for horses
The Highway Code rule changes: what does this mean for you and your horse?
After an outcry for stricter safety measures on our roads, 8 Highway Code changes came to fruition as of January 29th. These changes have been implemented to enhance the safety of pedestrians, cyclists, and horse riders on our roads.
What has prompted these changes?
Findings from the British Horse Association indicated over 1,000 road incidences involving horses occurred in 2021. 80% of these cases happened due to vehicles or cyclists passing by too closely or not waiting for a safe opportunity to overtake.
This shows just how dangerous roads can be for both horses and their riders. It's also expected that UK roads will become busier as we slowly break through the confines of the pandemic, presenting a higher risk of collisions. Let's explore these new rules in further detail and see how they impact horse owners and riders alike.
Hierarchy of road users
Horse riders, pedestrians and cyclists are now classed as the most vulnerable road users. Therefore, the guidelines are in place to treat anyone in these categories as a priority, as vehicle drivers can cause a lot more damage during a collision.
Drivers and motorcyclists must give way to horse riders; horse riders must remain vigilant and give way to pedestrians.
It's important to note that all road users must be aware of The Highway Code to keep everyone safe during their travels, regardless of their risk factor.
Maintaining a safe distance from horses and their riders 
Horses are delicate creatures and can become easily distressed due to their instinct to avoid danger. The updated safety requirements mean that all road users must leave a width of 2 meters when overtaking horse riders, reaching no more than 10mph.
Drivers are permitted to pass a double-white line if the road ahead is clear, and they need to remain under 10mph to prevent spooking the horse. Vehicles must wait patiently behind horse riders if there isn't a safe opportunity to overtake them.
Cyclists are likewise required to keep a safe distance from horse riders and should overtake at a slow and steady speed. Cyclists are not permitted to pass horses on the left-hand side of the road.
Ride more, worry less, with British Pet Insurance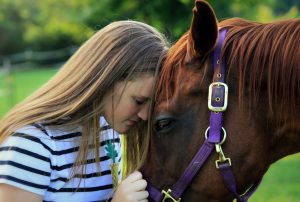 Owning a horse can be a fun and rewarding experience. However, the thought of your four-legged family member coming to harm, can be both stressful and expensive. This is where we can help.
We offer a comprehensive range of UK horse insurance policies tailored to suit all needs and budgets, focused on helping to protect you and your horse, both on and off the road,
Our friendly team is always here to give you the best guidance we can to help allow you to ride with confidence and peace of mind; so, don't hesitate to get in touch!
Whether you own a horse or loan a pony, we've got you covered. With a range of policy options packed with added benefits, select the level of cover to suit your needs.
Get a quote